The past Monday started off like any other week. The normal patterns of the normal routine. After work, I headed home only to be met by a barrage of sirens, blue lights, police cars, and emergency vehicles. This was more than normal. Something was wrong. I joined friends at a local eating establishment and texted a friend to check on her safety. Her husband phoned me to let me know they were safe and to inform me of what happened.
The unimaginable. One of our own police officers, our best officer, had been shot. I immediately felt my stomach turn but I quickly composed myself because knowing how strong, mentally, physically, and what a good cop my friend was, I knew he had to be alright. I told my dinner group the details of what happened as I understood them. We waited to hear an update on the condition of our police friend. Not long the news came of his fate. I felt like someone not only punched me in the gut but completely knocked the wind out of me and took my breath. This cannot be happening in our town to our friend. Why?
The next few days were hazy and surreal. The looks of sadness and hurt, devastation and disbelief on every face encountered. I knew how I felt about this young man, his wife, and his family. I had the utmost respect for him professionally, saw the humorous side of a jokester, saw his loving side as a father, knew he put thoughtfulness into gift selections for his wife on special occasions, and saw the sweet side of a son visiting his mother regularly in the nursing home. What I quickly realized was the rest of our community had wonderful experiences when this young man crossed their paths as well. Such a loss on so many levels.
The respect shown to our Lt. Patrick Weatherford was so indescribable. From the escort of his body by fellow law enforcement officers to and from Little Rock for his autopsy, to the outpouring of blue and black at his visitation, it was overwhelming and I was just a bystander. The number of officers who came to honor the fallen from all over the country was unreal. Patches on dress blues included NYPD, Chicago, Philadelphia, Austin, Fort Worth, Kansas City, and Memphis to name a few and that does not include the dozens of agencies represented across the state of Arkansas. The funeral service was so moving. The Honor Guard, the attendance of dignitaries, the words offered by those who loved Patrick, and the emotion of his immediate family of the local police and sheriff's departments. This band of brothers. A statuesque beauty full of grace who is far too young to be a widow. A young lady lonesome for her daddy, and a young son who will be years before understanding all of this and knowing how great his dad was. The mass crowd who came from far and near to pay their respects. A young African-American man who has had a troubled past dressed in his best Sunday suit to bid his farewells to his friend. All of this so filled with emotion, but nothing prepared me for the honesty of emotions, raw, impromptu, unrehearsed and real as the next few minutes I would encounter.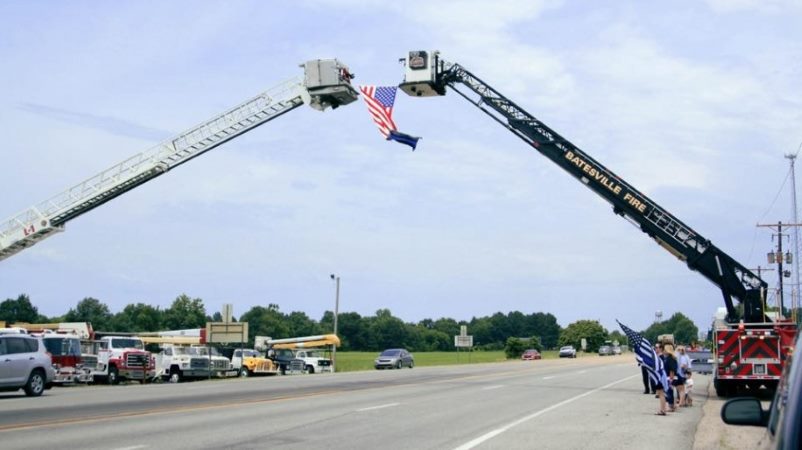 I was asked and honored to assist my funeral director friend in the service conduction. As I rode with her in the procession from the service to the cemetery interment, we followed directly behind the funeral coach, which gave us an unparalleled view of emotions on display along the route. Immediately following our departure from the service, motorists were pulled over and out of their cars in tribute. The Fed Ex driver with his hand over his heart, locals I knew, and strangers I did not. Crossing over the interstate overpass to be greeted by the loving faces of friends from the local car dealerships waving American flags. Motorists from out of state at the convenient store standing at attention. Turning the corner at the state police station to see two ladder trucks extended to hold the American flag in place as a canopy of honor and dozens of onlookers seeking the appropriate tribute to bestow. As we traveled along, roads that met the highway were filled with those who wanted to honor our officer. Every intersection we encountered was met by an officer saluting the procession. Some intersections had multiple officers. Children stood in front of their day care in a straight line and holding hands to pay respects to their school mate's fallen father. A small group gathered at the end of a community waving flags and fighting tears. A young family huddled up with parents holding their small children tightly and a mother openly weeping because the emotion of this moment was more than she could take. A childhood neighbor of mine wept openly standing by a fire truck as the procession passed near her house. She had lost her brother in Viet Nam. These feelings and sights brought back the memories of another fallen hero years ago. A mother having a yard sale with her children in the front yard paused and on a child-size chalkboard in colored chalk was written "A tribute to you." Old timers from the coffee shop out of their perch and standing attention. Making the turn in the neighboring town en route by two fire engines blocking the highway, one draped in the state flag, one in the American flag, with local volunteer fire fighters standing guard in street clothes paying respect and fighting back tears. The spunky octogenarian from my church parked on a side street to make sure her tribute was paid to our hero. The farmer who parked his cabless John Deere tractor at the edge of the field and stood with his cap in hand held over his heart as the motorcade passed. The sea of blue lights as we rounded a curve gave us some indication of how massive this cortege was. As the pavement changed to gravel with a turn, motor units lined the highway from shoulder to shoulder with their riding officers standing at salute. Nearing the end of our journey, we passed a house that almost looked abandoned but to the side was a young woman in cutoff shorts and a tank top standing stoically with her hand over her heart to pay her respects. We traveled on into the cemetery and gave our friend back to earth with a twenty-one gun salute, flyover, and Taps before we said goodbye.
Without question, the travels to the cemetery was the most emotional and real. Unrehearsed. Who has precedent on how to handle such a tragedy? Whether it was proper protocol or not, those emotions displayed were some of the most real I have ever seen and meant with the utmost respect. Had these individuals had an encounter with Patrick as a policeman? Did he give them comfort as a crime victim, or did he impact them to be a better person if they made a mistake? Did he encounter them without the badge in a positive way? I wondered as we traveled how many lives of these individuals did Patrick Weatherford impact. The answer now is all of them.
After this ride I took Friday afternoon, I now have a renewed hope in humanity. No matter what divides us, politcally, spiritually, or otherwise, I know there is still a goodness and decentcy that lives in the human heart. That at our core, we all share of love of fellow man and country and honor of those who give their all for a better life for each of us. So no matter what anyone tells you, just know that there is still love and hope in human hearts and it lives on in each of us every day. That is what Patrick would want us all to know.
"So now faith, hope, and love abide, these three; but the greatest of these is love." 1 Corinthians 13:13